Yedeshwari Temple
One of the most famous temples in Maharashtra, the Yedeshwari Mandir, is a popular pilgrim route that is taken by many devotees across the nation. The temple is home to the Goddess Parvati and requires devotees to climb and reach the temple, located near the town of Osmanabad in the state.
There are plenty of buses that operate from cities such as Pune and Mumbai, which sees a lot of devotees throng during the festive season. Located near the road to Barsi, the temple is exactly at Kalamb Tehsil and is surrounded by the agricultural village of Yermala. There are plenty of pilgrims who come from bigger cities and you're sure to find a lot of company should you choose to make this trip.


Quick Facts
Address: Yermala, Maharashtra 413525, India
Opening hours: 6:00 AM to 8:00 PM All days of the week
Deity: Yedeshwari (Goddess Parvati)
Festivals celebrated: Yedeshwari Fair on Chaitra and Shravan Pournima, Navratri
Location and Other Temples Nearby
It is situated atop a hillock that is two kilometers to the south of the village. It is also known as Yedai and requires pilgrims to climb 200 steps in order to reach the summit. One of the temples close to this is the Tuljabhavani Temple.
The Tuljabhavani Temple is another temple you could visit in the vicinity, and it holds significant historical importance as well. Dedicated to the Goddess Bhavani, it is located near the Yedeshwari Temple and is considered one of the 51 Shakti Pithas.
Built in the 12th Century AD, the temple is the second "shakti peeth," which is a designated spot for worship consecrated to the Goddess Shakti, who is considered the female form of Lord Shiva. These temples are present all over India.
The Goddess is the family deity of the Bhonsale Royal family, the Yadavs, and the other countless families from different castes. The popular ruler of the Maratha Kingdom, Chhatrapati Shivaji, also used to visit the temple regularly, as he was a firm believer in her powers.
People believe that he was gifted a sword by the Goddess, known as the Bhawani Talwar, to help him succeed in his endeavors. The word, "Tulaja" is indicative of a Hindu Monastery at Tolaja village present in Rawalpindi, Pakistan.
A Slice of History Awaits -
The Yedeshwari temple is designed in the style of Hemadpanthi. There are two different entrance doors located right at the front, with the principal one, which consists of lamp pillars and lamps as well. The central one is slightly taller than the ones flanking. As there are two rows of solid pillars, the mandap comes with two rooms at the end of it. There are also beautiful vestibules present at the other end.
There is an idol of the Goddess with a small linga present nearby. These are considered divine by the devotees as there is a story behind it. During Lord Ram's search for Sita, Goddess Parvati appeared in the form of Sita to please him. However, Ram recognized her and asked, "Tu ka Ayi," which translates to "Why you, mother." Even then, Parvati didn't give up and appeared a second time when Rama said, "tu yadai," referring to her as a Goddess. Since then, the temple was established and has become Yedai or Yedeshwari.
There are regular fairs held at the Chaitra Shuddha Purnima as well as the Shravan Purnima, which are the two most important festivals that are celebrated here. Thousands of pilgrims throng and pay their respects to the idols here, and the first festival sees crowds upwards of 80,000. The second event also sees a crowd of nearly 15,000 appear and pay their respects to the idols.
Getting there
There are plenty of cities and towns that are close to Yedeshwari, making it easier to get to the temple. It is important that you choose a route that doesn't take more than an overnight trip as it should be comfortable. There are trains and buses that ply towards Yedeshwari, and you can choose the one that suits your fancy the most.
Sites such as redBus make it easier to reach Yedeshwari Temple and get to the shrine for the morning darshan so you can explore the surrounding area as well when you get the time. The surrounding agricultural areas are peaceful to gaze at and can give you the peace of mind you are expecting.
How to reach Yedeshwari Temple by bus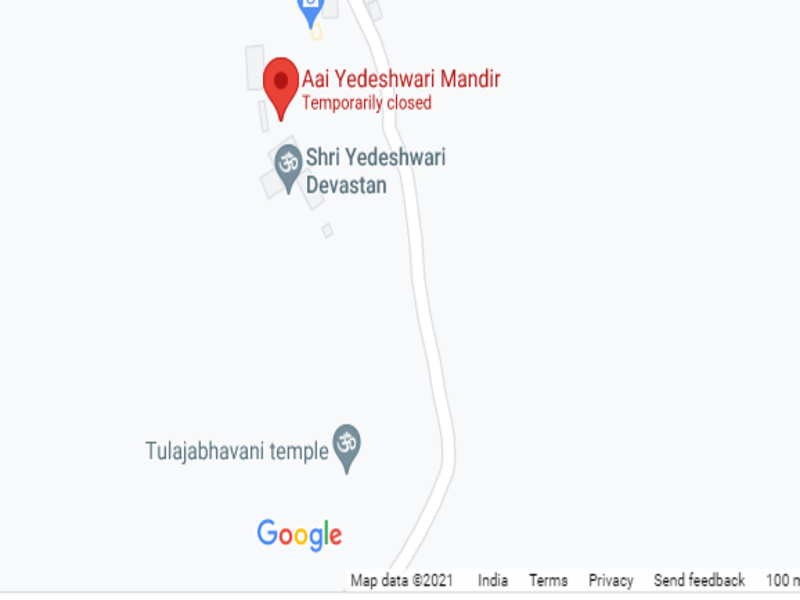 You can book a bus from various locations of Maharashtra to Yedeshwari Temple at affordable rates. MSRTC (Maharashtra State Road Transport Corporation) buses are best to travel within Maharashtra as they are safe and state government-owned buses. You can book buses to Yermala via redBus from various cities like Dhule to Yermala, Shirdi to Yermala, Pune to Yermala, etc.

How to reach Yedeshwari Temple from Pune

You can book a bus from Pune to Yermala by redBus at affordable rates. Buses are the most convenient way to travel from Pune to Yedeshwari Temple. The road distance between Pune and Yermala is 253 KM, and it takes around 4-5 hours to cover this route by bus. You will drop off at any bus stations/stop in Yermala and can catch a local bus or auto to the Yedeshwari Temple.

How to reach Yedeshwari Temple from Mumbai

You can book MSRTC buses on redBus from Mumbai to Yermala at affordable rates. The road distance from Mumbai to Yermala is 414 KM, and it takes around 8 hours to cover this route by bus. Local transportation within Yermala is available at all hours and at frequent intervals.

How to reach Yedeshwari Temple from Solapur

Solapur is located 102 kilometres far from Yedeshwari Temple, and it takes around 2 hours to cover this route by bus. You can book MSRTC buses on redBus from Solapur to Yermala at affordable rates. MSRTC is the major bus operator in Maharashtra that provides bus services to Yermala. Local buses, autos, taxis, etc., are available at frequent intervals from the Yermala bus station to the Yedeshwari Temple.