Vaishno Devi Temple
Known for being one of the most popular ancient shrines in India, the Mata Vaishno Devi Temple is believed to be the dwelling place of Goddess Durga. It is also believed to be one of the few places known for fulfilling the wishes of the devoted. The Vaishno Devi shrine holds the three Pindis that show the Mata in her three different forms, each representing a different attribute. These three forms are Maha Kali, Maha Lakshmi and Maha Saraswati. This is what attracts lakhs of devotees from all over the world to the temple every year.

Quick Facts
Address: Bhavan, Katra, Jammu and Kashmir 182301
Opening hours: All days of the week
5:00 AM - 12:00 PM
4:00 PM - 9:00 PM
Deity: Vaishno Devi, Vaishnavi
Major festivals celebrated: Navratri, Diwali
History and Mythology
There are many legends that surround the temple, and many believe that the temple is a manifestation of a Hindu Goddess called Mata Adi Shakti/Adi Parashakti. When Maha Lakshmi, Maha Gauri, and Maha Saraswati combined their energies to rid the world of evil demons in the Treta Tuga, Goddess Vaishnavi was born.
After defeating all the evil that was tainting the world, she was asked to stay on earth and continue protecting it. Agreeing, she takes the form of a human and then wanders around, helping people with their problems. This upset the local tantric and he enlisted the help of his disciple, Bhairon Nath to learn more about the mysterious woman. Bhairon Nath, however, became infatuated with Vaishnavi and began to stalk her. In order to escape him, she retreated into a cave, where she stayed for nine months.
Bhairon Nath refused to give up, and when he learned where she was, he decided to try and force himself on her. Vaishnavi turned into a Goddess with eight arms and beheaded the man, after which she went back into her cave, and is said to reside there to this day. This Holy Cave is known as Vaishno Devi Temple.
The Pilgrims Road
Getting to Vaishno Devi Mandir is not as straightforward as you might think. While those who have gone on this pilgrimage before may be able to handle the journey, those who are embarking on it for the first time will have to meticulously plan how to reach Vaishno Devi for a hassle-free journey.
The mountain with three peaks, Trikuta, is the home of the Holy Cave: the site of the Vaishno Devi Temple. However, the temple cannot be reached without first stopping at the small town of Katra, which is located about 42km from Jammu City in the Union Territory of Jammu and Kashmir.
The Holy Temple Cave itself is located at about 5,200ft high, and the trek is about 14km from Katra to the temple. Those who wish to visit the Vaishno Devi Temple will first have to stop at Katra and register for the trek, where you can also get insurance and anything else you may require for a safe trek.
The devotion that people have towards Maa Vaishno Devi runs deep and so the little town of Katra sees lakhs of pilgrims and visitors each year. With such large numbers of travellers, the town has provided many places for travellers to stay at. When in Katra, it is worth to pay a visit to the bazaar. Here, you can shop for woolen garments, leather jackets, hosiery, dry fruits and souvenirs for those back home.
How to reach Vaishno Devi by bus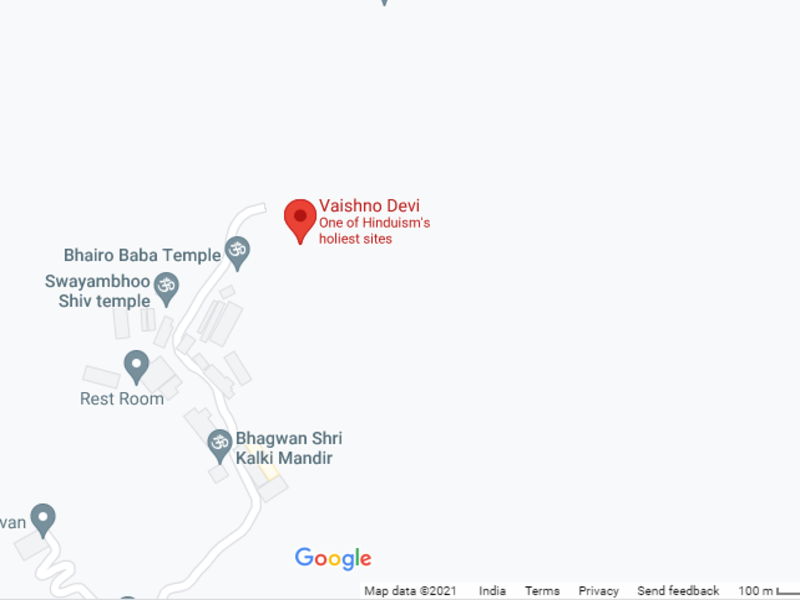 Vaishno Devi is one of the most-visited pilgrimage sites in India and is dedicated to Goddess Vaishnavi. The Vaishno Devi shrine in the temple which shows Goddess Vaishnavi in her three different forms is a major attraction for pilgrimage seekers. Located in the Katra region of J&K, Vaishno Devi is visited by many seekers from all around the globe.

You can book JKSRTC (Jammu and Kashmir State Road Transport Corporation) buses on redBus to travel to Vaishno Devi. JKSRTC buses serve various bus route to Katra like Jammu to Katra, Delhi to Katra, Srinagar to Katra, etc.

How to reach Vaishno Devi from Delhi

You can book a bus from Vaishno Devi from Delhi via redBus at affordable rates. JKSRTC provides a bus from Delhi to Katra daily at 08:00 PM. JKSRTC buses are state government-owned buses and have reasonable bus fares. Once you reach Katra, you will have to begin your trekking to the Vaishno Devi Temple that is around 12 kilometres far. The road distance from Delhi to Katra is 637 KM and it takes around 11 hours to cover this route by bus.

How to reach Vaishno Devi from Jammu Tawi

Jammu Tawi is located 47 kilometres far from Katra and you can book a local bus to cover this route. It will take you around an hour to reach Katra from Jammu Tawi by bus. redBus can help you in booking affordable bus tickets to Katra from various locations in J&K.

How to reach Vaishno Devi from Srinagar

The best way to reach Vaishno Devi from Srinagar is to book a JKSRTC bus via redBus. The road distance between Srinagar and Katra is around 250 KM and it takes around 6-7 hours to cover this route by bus.

How to reach Vaishno Devi from Katra

Katra is the base for beginning the journey to the Vaishno Devi Temple. Many devotees travel on foot from Katra to the temple and the distance is around 12 KM. Horses/ponies and lifters are also available for people who cannot walk.

Buses to Katra
There are no buses that will take you directly to the temple, but most buses from the major cities in North India travel to Karta as the NH 1A passes through Jammu. Buses will usually take the by-pass which is in Kunjwani and then keep going straight until they reach Katra. Book your bus tickets well in advance via redBus and avail deals and discounts on tickets and even accommodation options. Some of the popular routes taken to Katra are:
Delhi to Katra

Jaipur to Katra

Amritsar to Katra

Haryana to Katra
Though the journey may seem long, these pilgrimages are worth the blessings bestowed upon those who take them. As the Goddess Vaishno Devi is loved by so many, it is no wonder that throngs of people make the effort to pay her their respects in the cave she has been inhabiting for thousands of years. For those who want to learn more about the mighty goddess, the movie Jai Maa Vaishno Devi perfectly depicts her story.
Whether you are travelling to Vaishno Devi Temple as a pilgrim or simply a traveller, you will not regret your journey. The trek up to the site of the Holy Cave is safe and comfortable for most to travel on. There are restrooms on the way, as well as freshwater and refreshments. Not only is it extremely beautiful, but it brings one closer to understanding and interacting with a part of the vast and deep culture and religion of India. Visit the holy shrine of Vaishno Devi using redBus, the most affordable and convenient means of travel. Book online bus tickets using the user-friendly redBus website or mobile app.