Somnath Temple
Somnath Temple is a place of historical importance to all Hindus across the country. It is believed to be the first jyotirlinga shrine or representation of Lord Shiva. Jyotirlinga is believed to be a representation of Lord Shiva, where he appeared as a fiery column of light. There are a total of 12 shrines located across the country.
Although the Somnath temple has been through a lot of destruction at the hands of invaders over the centuries, it still stands tall after being reconstructed and preserved. In 1956, it was reconstructed and made with Chalukya style of Hindu temple architecture. The temple is very famous, and the construction was started at the time when Vallabhai Patel was the Home Minister, and it was completed after his death. Somnath means Lord of the Soma, which is a way to describe Lord Shiva.

Quick Facts
Address: Somnath Mandir Rd, Veraval, Gujarat 362268, India
Opening hours: 7.30 am to 11 am, 12.30pm to 6.30 pm, and 7.30 pm to 12 am
Opened in: May, 1951
Popular Festival Celebrated: Mahashivratri
Deity: Shiva
Where Is It Located?
The beautiful Somnath Mandir, as it is called in Hindi, is located in Prabhas Patan, also known as Somnath Patan near Junagadh in Saurashtra. It is located on the West coast of Gujarat. This place is a very popular tourist spot in Gujarat and helps the state make a lot of revenue during the year. The temple is not difficult to get to with red Bus' extensive bus networks, which run even to the most remote part of the country. You can book a bus from the redBus website in case you are in the closest big city or town.
What Is The Significance Of The Temple?
As mentioned before, the temple holds great significance amongst the local Hindu population as well as the Indian diaspora across the world. From ancient times, the site of the Somnath has been believed to be the confluence of the three rivers Kapila, Hiran, and Sarasvati, also known as Triveni Sangam. Soma, who is known as the Moon God, is believed to have lost his sheen and luster due to a curse. To regain it, he is believed to have bathed in the river Sarasvati. The phases of the moon here are no doubt referenced to the tide's waxing and waning. The town where the temple is located is called Prabhas, which means luster and its other name, Someshwar, translates to the meaning "moon god."
What Are The Different Festivals That Are Celebrated Here?
During the year, there are multiple festivals that are celebrated here. Although the pilgrimage focuses on praying and paying your respects at the temple, you can also feel free to go to the temple during other festival times, which are significant for Hindus.
Mahashivratri is a very big festival, which warrants an entire cultural program here, ranging from different kinds of traditional music and dance shows. Golokdham festival is another time of the year when there are dance and cultural programs along with a grand puja that takes place at the temple. In case you are planning a trip to this wonderful temple, make sure you can couple it with one of the festivals. You will get to see many events, and it will be a grand and joyous occasion.
Locations and Bus Routes
redBus is a pioneer of bus transport across the country. With a robust system in place, it is more difficult to find a place where buses don't exist than otherwise. redBus offers various routes and from the temple, which you can book from the website. A quick tip is to try and book the ticket from a bigger city around you because there will be a lot more buses departing from there. Bigger cities usually have more people traveling, and this will be a good opportunity for you to figure out the best kind of bus for your trip.
Somnath Temple is definitely a historical treasure. Once you are there, you will realize how you are standing on a piece of history that is older than even some countries around the world. We have compiled a list, which has the bus routes from the biggest cities going to Somnath or the closest town to the temple. Make sure to go through it, and you will be able to decide which one works the best for you. All the best, and we hope you thoroughly enjoy the temple as well as the bus ride!


How to reach Somnath Temple by bus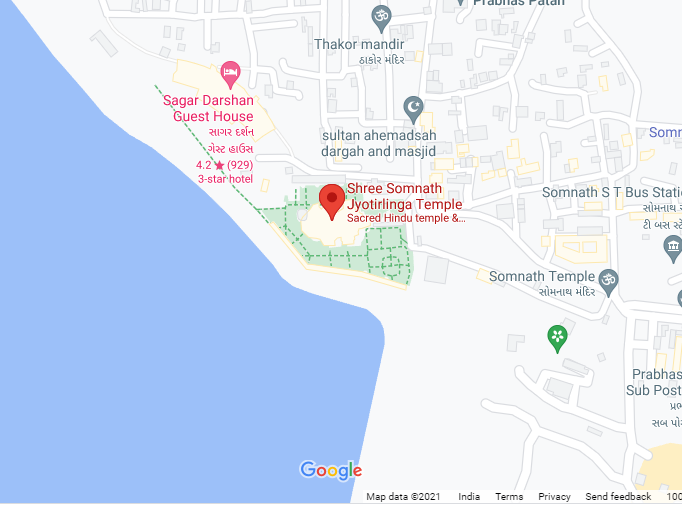 Somnath temple sees a frequent rush of devotees from across the nation. Somnath is connected by road from all parts of the state, and there is also an airport nearby. If you are planning to visit the temple, here are a few details on how you can reach some famous cities in India.
How to reach Somnath Temple from Delhi
It is hard to find direct public transportation from Delhi to Somnath temple. The options are to reach either Ahmedabad to Rajkot via bus, train, or flight, and then taking a bus from the respective destinations to Somnath Temple. Rajkot airport would be the closest airport from where you can go by bus to the temple. The total distance from Delhi to Somnath is 1300 km and can take at least 24 hrs.
How to reach Somnath Temple from Ahmedabad
The distance from Ahmedabad to Somnath temple is 412 km. It will take 8-10 hrs to reach the destination by bus. There are plenty of buses on this route, so getting a seat on any of them would not be tough. Moreover, GSRTC buses operate at cheaper rates than private buses, with lots of amenities for a comfortable journey. The average bus fare on Ahmedabad to Somnath bus would be INR 300, which could go up to INR 600.

How to reach Somnath Temple from Dwarka

Somnath and Dwarka are 237 km apart, and it takes approximately 6 hr 15 min of travel from one place to the other by bus. There are 3 regular buses available on this route. The private buses charge INR 350 on average for a one-way ticket. The GSRTC buses travel faster and cost INR 130 for the tickets. The buses have basic amenities for a comfortable journey for a few hours.
Somnath Temple Routes on redBus:
Some of the popular routes to Somnath Temple are:
Ahmedabad to Somnath
First bus leaves at 9 pm while the last bus departs at 11:35 pm. The average fare is INR 550. The average duration to complete this journey is 7 hours and 15 minutes.
Surat to Somnath
First bus leaves at 5 pm while the last bus departs at 10 pm. The average fare is INR 700. The average duration to complete this journey is 14 hours and 30 minutes.
Rajkot to Somnath
First bus leaves at 12 am while the last bus departs at 9 am. The average fare is INR 250. The average duration to complete this journey is 4 hours and 30 minutes.
Mumbai to Somnath
First bus leaves at 12 pm while the last bus departs at 9 pm. The average fare is INR 900. The average duration to complete this journey is 21 hours.
Visit the redBus website today to know more aboutthe various routes you can take to get to Somnath Temple. Avail exclusive offers and discounts on the redBus app and website.
NOTE: In light of the recent Coronavirus pandemic, we at redBus would like to urge you to take all necessary precautions when you travel and follow every instruction provided by your local government. If you're not planning on traveling, practice social distancing and stay indoors to help slow down the spread of COVID-19 or the Coronavirus disease and prevent it from spreading any further. Stay safe!