Sabarimala
Sabarimala – One of Kerala's principal pilgrimage towns

Sabarimala is a significant Hindu temple situated on top of a hill in the Pathanamthitta district of Kerala. The mountain is surrounded by 18 other hills and is part of the Periyar Tiger Reserve. This temple is dedicated to the God of growth, Ayyappa. Every year, this temple attracts pilgrims from various states of India and even parts of the world. Most pilgrims would be from Kerala, Karnataka, Tamil Nadu, and Andhra Pradesh. This temple would open for worship only for the days of Mandalapooja, which comes between November and December, Makara Sankranti on the 14th of January, Maha Vishuva Sankranti on the 14th of April, and for the first five days of every Malayalam month. People can purchase their tickets through the Sabarimala online ticket facility.

Quick Facts
Address: Pathanamthitta, Kerala
Opening hours: 3 am to 1 pm and 3 pm to 11 pm
Deity: Lord Ayyappa
Festivals Celebrated: Makar Sankranti, Mandalam Makaravilakku
A brief history
The popular myth of Ayyappa is connected to the royal dynasty of Pandalam. The King and Queen of this dynasty tried their best to have children. According to the story, when the King went hunting, he found a baby crying alone by the riverside in a forest. Upon inquiring, a sage advised him to take this crying baby home as his son, which the King followed. This child, Manikanda, grew up as the prince of the dynasty. When he was twelve, the Queen developed an illness and the doctor who treated the Queen advised her to drink tigress's milk to treat this illness. While no one accepted this responsibility for bringing milk from a tigress, Manikandan happily volunteered. While returning to the Kingdom, he brought her the milk and rode the tigress along with her several cubs. The royal family realised that he was an extraordinary child. According to the lore, the prince is said to have expressed his desire to abandon the Kingdom and become an ascetic. The King later built an incredible shrine for the boy on top of Sabarimala, where Manikandan became Ayyappan by acquiring a divine form.
The Pilgrimage and getting there
The pilgrims who wish to see Ayyappan must reach the temple through many complicated treks in the forest, as there is no provision for vehicles to enter the area. They must observe celibacy for about 41 days before going to the temple. The pilgrims must strictly refrain from alcohol, follow a Lacto-vegetarian diet, never use profanity, and let their nails and hair grow without clipping or cutting them off. They are also expected to visit local temples regularly and bathe twice daily. They should wear blue or black clothes, not shave until their Pilgrimage is completed, and apply sandal paste or Vibhuti on the forehead. They must try their best to help others and see everyone and everything around them as Ayyappan.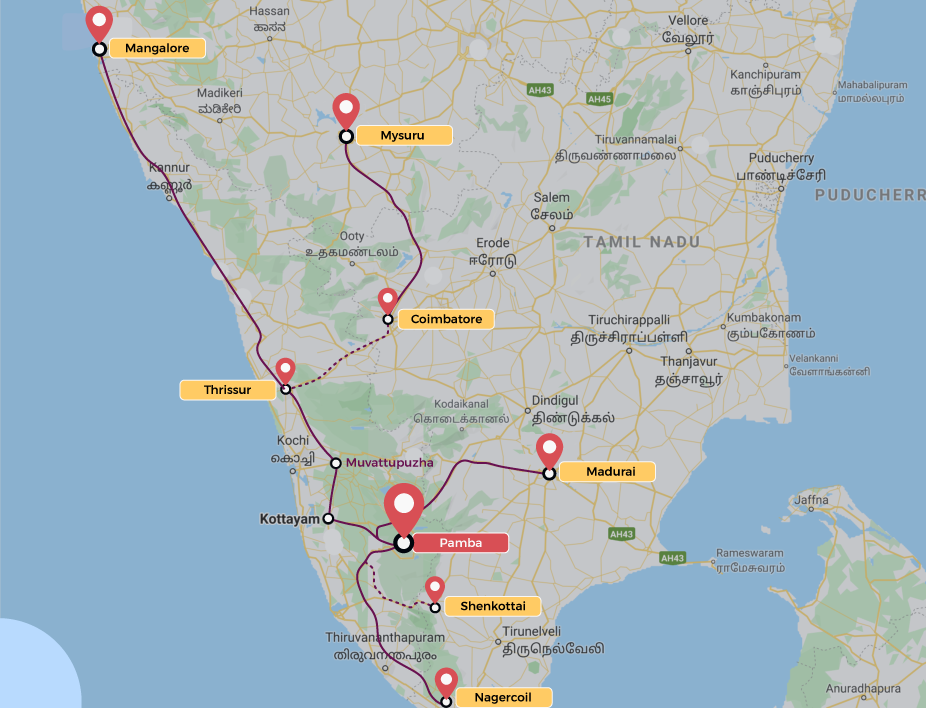 Every year, millions of people still follow the original route to Sabarimala temple through the mountainous forest path from Erumely, 8 km from Chalakayam, and 12.8 km from Vandiperiyar. The popular belief is that Ayyappa took this route himself. This route starts from Erumely to the Aludha River, and then pilgrims reach Karivalam thodu by crossing Alutha Mountain. The sacred Karimala is passed first, followed by the Cheriyanavattom, Valiyanavattom, and Pamba Rivers. Next, Pilgrims should climb the Neelimala and get into the Ganesh-Bettam and Shreerama-Betta Padam. After this comes the famous Aranmula Kottaram, one of the most popular stops during the holy journey of Thiruvabharana Ghoshayathra.
People also use vehicles these days through an alternate route to reach the Pamba River. From there, people will have to trek through the mountain's steep paths from Neelimala to Sabarimala temple. People can also use the Sabarimala online tickets facility that's now available. The Sabarimala online ticket helps devotees get their tickets quickly before visiting the Sabarimala temple.
How to reach Sabarimala by bus?

Sabarimala is where the famous Ayyappa temple in Kerala is situated. The temple is atop a hill that the only way of reaching is by foot. Buses and cars are the primary way of getting to the nearest spot to start the climb. Here you will see how you can go to Pamba, the base where you start climbing.

How to reach Sabarimala from Bangalore?

Bangalore to Sabarimala is 613 km by road. During the peak season in November-January, plenty of Kerala RTC buses will operate on this route. In addition, there are other private bus options on this route to Erumeli, and from there, you can easily find Kerala RTC buses to either Nilakkal or directly to Pamba. The average bus fare from Bangalore to Sabarimala would be INR 1200 and will take approximately 11-13 hrs.

How to reach Sabarimala from Trivandrum?

From Trivandrum, you will travel 106 km to reach Sabarimala. The bus services are available to Pamba at an average ticket fare of INR. 211. You can find KeralaRTC buses for getting here, which are available at regular intervals. If you are coming from other states, you can arrive at Trivandrum airport and then take a bus.

How to reach Sabarimala from Chennai?

The Chennai to Sabarimala bus travels for about 13 hrs on this 534 km road. YBM Travels mainly operates direct buses. You can find the Kerala RTC buses anywhere from Kerala, in case you didn't get a direct bus from Chennai. The closest option is to reach Kottayam and then another bus to Pamba.

How to reach Sabarimala from Hyderabad?

For those coming from Hyderabad, the best option is to travel by train to Kottayam and then take a bus to Erumeli, Pamba, or Nilakkal. The train journey itself is going to be a long one, approximately 20-22 hrs. So the total travel time will be close to 30 hrs. The distance from Kottayam to Pamba is 43 km, and the average ticket fare of INR 60. During the season, you may also find direct buses from Hyderabad to Sabarimala operated by APSRTC.