Golden Temple
Several times in our lives, we come across places that give us incredible peace and serenity. Amritsar's Golden Temple, also called the Harmandir Sahib, is definitely one such place. Just sitting at the temple grounds can fill one with immense inner peace and reflection. It is considered to be one of the world's holiest shrines, and close to thousands visit it every day.
A large pool of water surrounds the shimmering of the temple. People start gathering at the temple from sunrise and stay till as long as they want. In fact, if you are visiting the Golden Temple, try and see the sunrise there. The sun's rays reflecting off the gold and the water are a sight to behold.
About Golden Temple
The history of the Golden Temple is quite fascinating. In 1570, the third Guru Sahib suggested excavating a holy tank and building a settlement around it. The building of the temple took several years, during which it was attacked as well. Finally, in the year 1830, the gold plating was done, and the building was completed. If observed closely, the architecture of the Golden Temple is a reflection of virtues like openness, generousness, and more. Unlike other temples, the Harmandir Sahib has four entrances in each direction. This, too, is a reflection of how the temple is open to one and all.
There is an artificial body of water in the middle, which is said to have healing powers. It is filled with fishes and cleaned every day. Many devotees sit by the Sarovar and meditate. In the center of this water is the Gurudwara, which is connected by a causeway. The inside is called the House of God, and one will find the Guru Granth Sahib and several holy pictures and scripts there. Behind the temple is the Guru Ka Langar or the community kitchen, which is one of the biggest of its kind in the world. Daily, more than a hundred volunteers cook food to serve more than lakh pilgrims.
Visiting the Golden Temple
The best thing about Golden Temple is that it is open to everyone regardless of caste, creed, sex, social status, etc. If you take any rickshaw or bus till the Golden Temple, they will leave you at a certain point, and you will have to walk till the temple premise. Vehicles stop at busy markets and narrow lanes lead up to the temple. Once you reach, you will have to keep your shoes and luggage at the counters.
It is a rule to cover heads inside the temple and enter only after washing their feet. Upon entering, you will see hundreds of devotees sitting and meditating or listening to the hymns or standing in line to go inside the God's House. Some even bathe themselves in the holy water. If it is your first time, keep a few hours in hand and explore the entire temple. Food and water are available at all times for free.
It is advisable not to visit during Hindu festivals like Diwali and others. Even the weekends get very crowded. The most important festivals celebrated here are Guru Nanak Jayanti, Baisakhi, Diwali, etc. Birth and death anniversaries of the ten Gurus of Sikhism are also celebrated. If you want to see the magnificence, visit the Swarn Mandir during sunset and sunrise. You will surely be left speechless.
Langar or the Community Meal
Harmandir Sahib is known for its Guru Ka Langar or the community meal that is served every day. Meals are served to tens of thousands of people every day. Everyone is welcome to eat the food, and it is absolutely free of cost. Food is available 24 hours a day, and there are not any simple meals. Several dishes are prepared by volunteers who devote their lives to the work of Harmandir Sahib. Dishes like lentil dal, chapati, yogurt, chai, and more are provided.
You can also volunteer to cook or be of any service to the temple for a day. The main idea behind this was to make the Swarn Mandir a safe space for all. So that no one goes to sleep without food in their belly, this was started as a service. You can even spot several homeless people in the temple premises.

How to reach Golden Temple by bus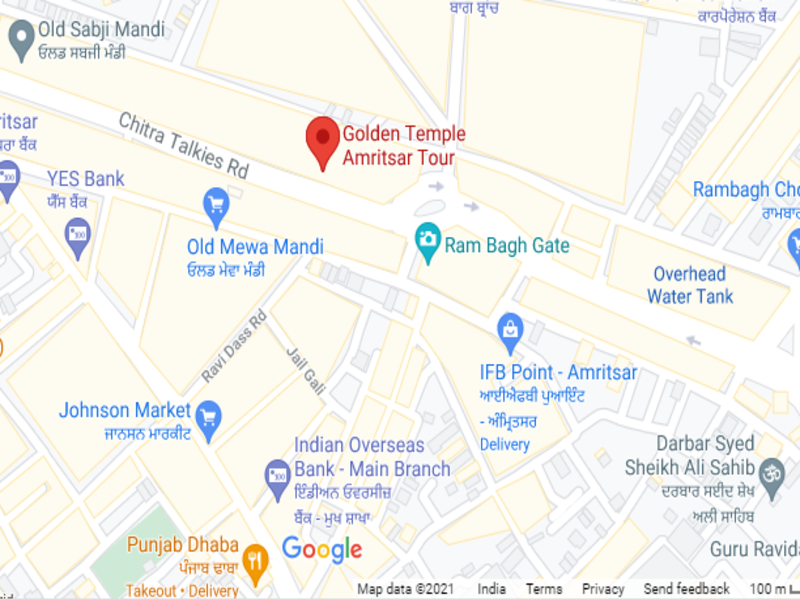 Golden Temple situated in Amritsar is one of the most-visited pilgrimage sites in India. Buses are the most affordable means of transportation to the Golden Temple from various locations in Punjab. Buses to Amritsar are also available from neighbouring states.

You can book PEPSU (Patiala and East Punjab States Union) bus tickets on redBus to Amritsar. PEPSU several bus route to Amritsar like Patiala to Amritsar, Chandigarh to Amritsar, Sangrur to Amritsar, etc.

How to reach Golden Temple from Delhi

The road distance from Delhi to Amritsar is around 456 kilometres and it will take you 8-9 hours to cover this route by bus. You can travel by PEPSU buses from Delhi to Amritsar available on redBus for booking. With redBus, you can choose to drop off at various points/stops in Amritsar. The drop-off points in Amritsar for buses coming from Delhi are Alpha One Mall, Bus Stand, Railway Station, etc. You can find autos, taxis, local buses, etc. from these bus stops/stations to the Golden Temple.

How to reach Golden Temple from Chandigarh

The first PEPSU bus from Chandigarh to Amritsar departs at 01:50 PM while the last bus departs at 05:20 PM. The distance between Chandigarh and Amritsar is around 228 KM and it takes 4 hours to cover this route by bus. The major drop-off points of buses from Chandigarh to Amritsar are Hill Gate and ISBT Amritsar.

How to reach Golden Temple from Amritsar Airport

You can travel via public buses to reach Golden Temple from Amritsar Airport. The bus tickets from Amritsar Airport to the Golden Temple starts from INR 15. Buses are the most affordable means of travelling from the Golden Temple from Amritsar Airport. Besides buses, other transportation means like autos, taxis, etc. are also available from Golden Temple to Amritsar.
Reaching Amritsar
There are several ways to reach this beautiful place. The most preferred is by train or bus. If you are traveling by air, the Sri Guru Ram Das Jee International Airport is only 11kms from the city center, and daily flights are available from Delhi, Chandigarh, Jammu, Dubai, London, Toronto, and other big cities.
Buses are a convenient and affordable means of travel. Book your tickets through Redbus and travel from Delhi, Dehradun, Shimla, or Jammu. There are buses from other North Indian towns as well. Both Government and private buses are available. You can go to redBus and make your choice according to the suitable time and price.

Visiting Golden Temple during Covid-19 Pandemic

As per the Ministry of Health and Family Welfare's guidelines issued in June 2020, visitors need to maintain a minimum distance of 6 feet inside temple premises and wearing masks is also mandatory. Distributing Prasad was also restricted initially, however the Punjab government later allowed it being subject to follow Covid-19 hygiene while preparing and distributing food.
So, without further ado, go to redBus and book your bus tickets to Amritsar at a discounted rate. You will also get a lot of discounts while booking through redBus. Choose the proper time to go to Amritsar, visit the Golden Temple, and get swayed away by the sereneness of the place.