Dharmasthala Temple
There are over 300,000 temples in India, and South India is home to some impressive temples. One of them is the Dharmasthala temple, located in Dakshina, Karnataka. The main deity of the temple is Siva referred to as Dharmasthala Manjunatha.
About Dharmasthala Temple
The Shri Kshetra Dharmasthala temple is unique and one of the renowned landmarks in the religious chronicle of India. The Dharmasthala temple dates back 800 years. Manjunatheshwara, or Dharmasthala Manjunatha, is the chief and the presiding deity of this holy and spiritual abode. The Dharmasthala Manjunatha took the form of a Shivalinga and made the temple town of Dharmasthala an immaculate and sacred place. The Dharmasthala temple is a Shaiva temple that is worshipped by Vaishnava priests ( who are followers of Lord Vishnu), and the administration is in the hands of Jain descendants.
Dharmasthala temple means the "abode of dharma"- the essence and nucleus of humanity and faith. So the name screams Dharma, which means righteousness and the epithet of the most divine emotion in the world that transcends one's cast, sex, gender, creed, and religion.
Legend and Origin of Dharmasthala Manjunatha
Dating back 800 years, Dharmasthala was known as Kuduma. It was known as Kuduma in Mallarmadi, a village in Belthangady. In this village lived a Jain Bunt priest or chieftain named Birmanna Pergade. He and his wife, Ammy Ballalthi, lived a comfortable life in a house called the Nelliadi Beedu. The legend and history have it that the angels who guarded Dharma took human incarnations and reached this abode of Pergade.
They were looking for a place where Dharma was preached, propagated, and practiced. The couple played excellent hosts to the visitors without knowing their true identity. They revered them as Indian tradition exemplifies a guest as Athiti and "Atithi Devo Bhava" ( Guest is God). Pleased by their hospitality and generosity, the Daiva ( Gods) of Dharma appeared in Pergade's dreams. They explained why they visited him and asked him to vacate the house to worship Dharma.
This entire event was to propagate the importance of Dharma. So Pergade and his wife built another abode and began worshipping Dharma at Nelliadi Beedu. Thus the worship of the Dharma Daivas continues.
The Daivas appeared before Pergade and asked him to build separate shrines dedicated to the four Daivas- Kumaraswamy, Kalarkayi, Kalarahu, and Kanyakumaru. They also instructed Pergade to choose two people from a noble lineage to act on behalf of the Daivas vision. They asked to see four worthy people to help him in his duties to perform the rituals as the head. In return for his devotion, the Daivas promised him the safety of his family, charity, and fame for the Kshetra ( Nelliadi Beedu).
Pergade built the shrines and invited renowned Brahmins to perform the pujas. The Brahmin priests requested Pergade to install the Shivalinga next to the Daivas. The Daivas sent their messenger to get the ShivaLinga from the Kadri Manjunatha temple, and the Dharmasthala Manjunatha temple was built around the linga.
Dharmasthala temple has since occupied a very special place in South India and has blossomed because of the charity of Shri Devraja Heggade, who consecrated the linga himself. With his blessings, the Dharmasthala Manjunatha temple has blossomed into a holy place of worship. Dharmasthala is well connected to various cities in South India, and Bangalore is the closest city. There are several Bangalore to Dharmasthala buses that ply every day at regular intervals.
Dharmasthala Temple Timings
Darshana & Pooja: 6:30 a.m. to 11:00 a.m. | 12:15 p.m. to 2:30 p.m. | 5-00 p.m. to 8-30 p.m.
Abhisheka & Archana: 8-30 a.m. to 10-30 a.m.
Thulabhara Seva: 8:00 a.m. and 01:00 Noon
.
How to reach Dharmasthala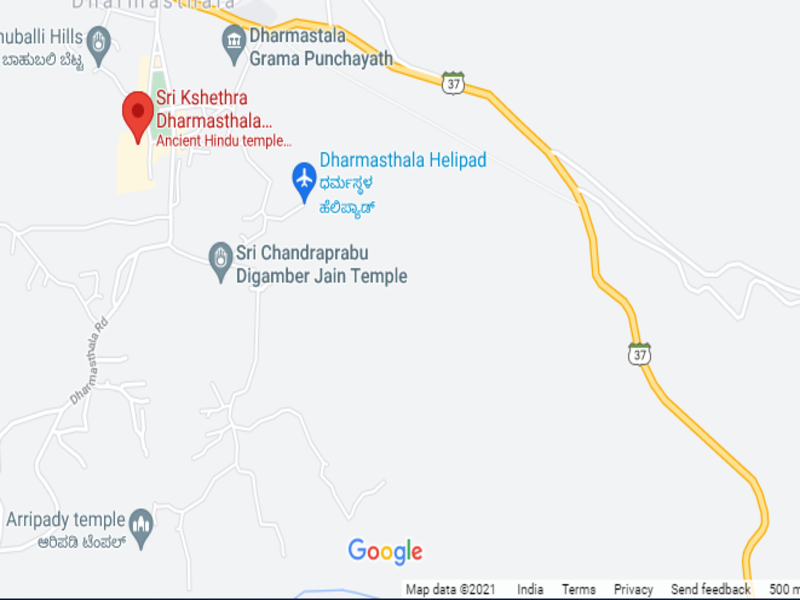 Dharmasthala is a town in Karnataka and is known for its pilgrimage sites. On the bank of the Nethravathi River, Dharmasthala is visited by many pilgrimage seekers every day. You can travel to Dharmasthala from various cities in Karnataka by bus. Buses to Dharmasthala are also available from neighboring states like Andhra Pradesh.
You can book KeralaRTC and APSRTC buses to Dharmasthala via redBus at affordable rates. Both these operators serve various routes to Dharmasthala, like Bangalore to Dharmasthala, Belagavi to Dharmasthala, etc.
How to reach Dharmasthala from Bangalore
The distance between Bangalore and Dharmasthala is 295 KM, and it takes around 6 hours to cover this route by bus. You can search for KeralaRTC and APSRTC buses to Dharmasthala from Bangalore. KeralaRTC and APSRTC buses are stated government-owned and take extensive measures to ensure passengers' safety.
How to reach Dharmasthala from Hubli
Hubli is 381 kilometers from Dharmasthala, and it takes around 7-8 hours to cover this route by bus. The buses coming from Hubli usually drop the passengers at the Dharmasthala Bus Stand. You will get frequent local buses, autos, taxis, etc., from the bus stand to any other location in Dharmasthala.
How to reach Dharmasthala from Hyderabad
The road distance from Hyderabad to Dharmasthala is 734 KM, and it takes 12-13 hours to cover this route by bus. The inter-state bus services to/from Karnataka were recently affected due to the COVID scenario, so cross-check once on redBus.
How to reach Dharmasthala from Mysore
The distance between Dharmasthala and Mysore is around 239 KM, and it takes 4-5 hours to cover this route by bus. redBus will provide frequent buses from Mysore to Dharmasthala throughout the day.
How to reach Dharmasthala from Mangalore by bus
Mangalore is located 72 KM, far from Dharmasthala, and it takes around 1.5 hours to cover this route by bus. You can search for APSRTC routes to Dharmasthala via redBus and book affordable bus tickets.
If you plan a trip from Bangalore, book a Bangalore to Dharmasthala bus via the redBus website or download their app. Avail of deals and discounts to have a wonderful visit to the temple town.