Char Dham
What is Char Dham?
Char Dham in Hindi means "four abodes" and refers to the four holy pilgrimage sites for Vaishnavite Hindus. It consists of four places and Vaishnavite Hindus believe that completing the pilgrimage to the four sites helps attain salvation or "Moksha". These four sites are located in the four corners of the country and require much travel to be able to complete them in one trip. The char dham yatra is of important significance amongst the Vaishnavites. In order to achieve salvation, hoards of Hindus (upto 200,000) visit these abodes every year. Once the Hindus have visited these holy places, their sins are washed away and salvation is achieved. Let's read more about the trip and the different locations.
What Are The Different Locations?
As the name mentions, there are four different abodes that make up the char dham and they include Dwaraka, Rameswaram, Puri and Badrinath. Dwarka is in the state of Gujarat, Rameswaram in Tamil Nadu, Puri in Odisha, and Badrinath in Uttarakhand. These places are distributed in the four corners of the country and it takes a fair amount of effort to get to all of them. Redbus ensures that there are convenient ways to get to these locations with their wide network of buses all over the country.
What Is The Significance Of The Locations?
The four locations have their own significance according to Hindu beliefs. In the case of Badrinath, Nar-Narayan, who is an avatar of Lord Vishnu, did Tapasya there. While doing so, he was protected from the natural elements by a berry tree. Locals believed that Mata Lakshmi donned the role of the tree and saved him. Post Tapasya, he said that locals would always use her name before his and hence, "Laksmi Narayan" became popular. This is the reason it was called Badrinath, which means Lord of the berry forest and has since been the first dham.
Rameswaram became significant when Lord Rama built a huge Shiva Lingam there in order to be able to worship Lord Shiva and receive his blessings. Rameswaram means Rama's Lord.
Puri dham became significant because Lord Vishnu was worshipped there as Jagannath, which is one of his avatars. The Jagannath temple is renowned all across the country.
The fourth and final dham, Dwaraka, got its importance when Lord Krishna, instead of making Mathura, which was his hometown, his residence, chose Dwaraka instead.
These places hold great significance in the lives of countless Hindus across India. Although all these places are equally beautiful, the char dham pilgrimage makes the entire trip an absolute treat. Due to the development of tourism and the places being well connected by buses, it is very easy to get to them and be able to continue your pilgrimage.
Locations And Bus Routes
redBus ensures that the transport system around the country is rock solid. You can travel from one place to another comfortable in any one of their state-of-the-art buses. You can also get good deals and discounts on tickets and hotel accommodations. Make sure that you have done your research on the closest bus stations available so that you don't have to travel too much. These buses may not take you to the exact location, but to the closest town that will allow you to travel to one of the four abodes.

How to go to Char Dham Yatra by bus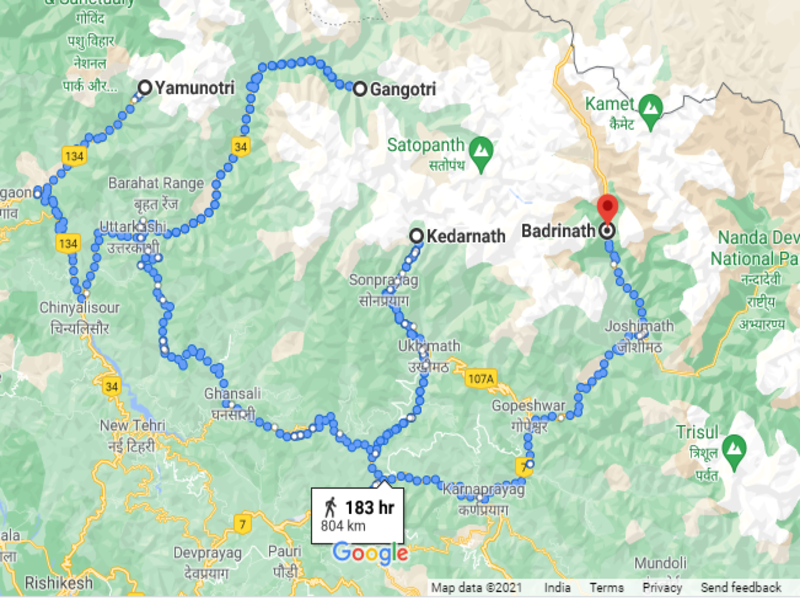 You can travel to these four pilgrimage sites by state-owned RTCs as they are safe and affordable. You can book HRTC, OSRTC, and UPSRTC buses on redBus to travel to these pilgrimage sites.

How to go Char Dham yatra from Delhi

You can start by booking UPSRTC or HRTC buses from Delhi to Badrinath at affordable rates via redBus. The road distance between Delhi and Badrinath is around 551 KM, and it will take you around 13 hours to cover this route by bus. You can then travel from Badrinath to Gujrat and then can cover the last two sites in South India. OSRTC buses will help you in getting to the pilgrimage sites located in South India.

How to go Char Dham yatra from Mumbai

You can start your Char Dham yatra by travelling from Mumbai to Rameswaram (1610 KM) and then can book a bus from Rameswaram to Puri (1839 KM). From Odisha, you can OSRTC buses to travel to North India for visiting the remaining pilgrimage sites.

How to go Char Dham yatra from Haridwar

You can book a bus ticket from Haridwar to Badrinath via redBus to begin your Char Dham yatra. You can then travel to Dwarka (Gujrat) by bus from Badrinath. The rest of the pilgrimage sites can be visited after the ones in North India. redBus will help you in booking affordable bus tickets along the Char Dham yatra. You can plan your Char Dham yatra via redBus by pre-booking bus tickets.
Char Dham Yatra during Covid-19 Pandemic

While Char Dham Yatra has opened for all pilgrims, there are certain guidelines one needs to follow before registering for a Yatra e-Pass:
1. All pilgrims have to go through thermal scanning at the check post of the respective destrict authorities and health protocols are to be arranged by the DM.

2. If any pligrim is found with high temperature or other Covid-19 symptoms, he/she will not be allowed for further pilgrimage and Covid-19 will be conducted the cost of which will be borne by the pilgrim. Pilgrims with negative test report will be allowed to enter the shrine.

Char dham is definitely an exciting and adventurous trip to make since you will be able to cover all four corners of the country and will also be able to experience the different kinds of culture that exist there, although they are all in the same country. We have a comprehensive list below of the buses available from the closest major city. Use redBus to customize your trip based on your requirements and schedule so that it is not hectic. All the best with your trip and make sure that you always stay safe!