Seven wonderful places to spend your Christmas
Christmas is when most folks come together to celebrate the festive spirits. Some prefer staying at home and spend the holidays to relax, sleep, and enjoy dinner with their loved ones. Some even like to use the holidays as a reason to visit new places and explore unknown cultures and meet new people. If you are planning a vacation here is a list of seven wonderful places to spend your Christmas, for a perfect blend of holiday and festivities.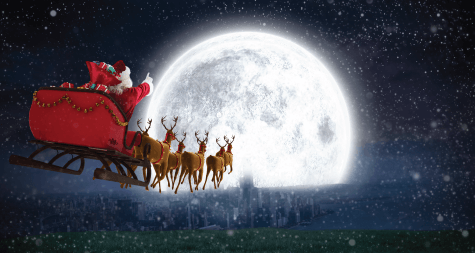 Goa - A Perfect Holiday Destination
Goa is a former Portuguese state. It is among India's one of the most visited tourist destinations. The state has two World Heritage sites. With a Christian population of over .35 million, it has over 400 beautiful churches. Surrounded by nearly 50 beaches, it has built a wild party circuit, attracting tourists from across the globe. With cheap beer and mind-blowing seafood, Goa attracts people from all around the world, especially for Christmas and New Year's celebrations.
The Basilica of Bom Jesus and The Immaculate Conception Church are the most visited churches in Goa that offer midnight mass. Almost the entire Goa is lit in colorful lights for Christmas decorations. Traditionally every year, they burn old man effigies representing the ills and worries of the previous year. There are massive fireworks at Baga, Calangute, Colva, and Bogmalo Beach, along with housewarming or beach parties.
Some of the nearest cities from Goa are Mumbai, Pune, Mangalore, and Bangalore (Bengaluru). redBus operators have daily buses from all these cities along with long route buses available from other cities. Isn't Goa the most wonderful places to spend your Christmas? Get started to plan Christmas 2021 in Goa!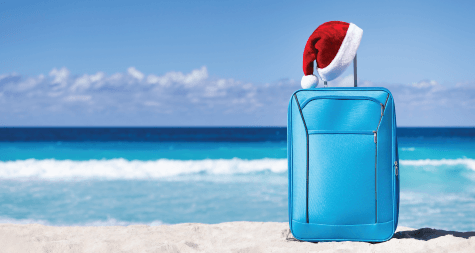 Kerala - God's Own Country
Kerala is a beautiful tropical coastal state with palm-lined roads & beaches, backwaters, and boathouses. In India, it is believed to be the birthplace of Christianity. Most of the Christians in Kerala follow the catholic and orthodox churches. It is popularly believed that the Musiris harbor of Kerala was the first place where Christ's apostle St. Thomas landed and established the seven and a half churches in Kerala. Christmas in Kerala is celebrated as per the eastern traditions. It is a day of family reunion with special festive lunch, community gathering at the church for midnight mass along with choir and fireworks after the service.
During Christmas, markets in Kerala are colourfully decorated to bring out the festivities. Almost every house is decorated with shimmery Christmas lights, which makes it a wonderful place to spend your Christmas.
All the cities in Kerala are interconnected by KeralaRTC and private buses. Cities like Kochi (Cochin) and Thiruvananthapura are directly connected to other cities in North and South India. Is Kerala your Christmas 2021 destination? With redBus you can quickly book your bus tickets.
Shillong - Scotland of the East or the Rock Capital of India
Shillong, the state capital of Meghalaya, other northeastern states of Nagaland, Mizoram, Arunachal Pradesh, and Manipur have the most Christian population of India. Christmas in all of these states is celebrated with utmost piety and zeal. The city's famous The Cathedral Church is the oldest church in the entire northeastern region.
Shillong can be a happy place to celebrate Christmas 2021. People here gift home-baked bake cakes while visiting friends and family. They attend the church for midnight mass and Christmas carols. Shillong in Meghalaya can be one of the most wonderful places to spend your Christmas if you are going to the East. The streets are filled with people greeting "Merry Christmas" and exchanging gifts. Another tradition of Shillong is to cook the infamous Dohneiiong dish, which is a traditional Khasi dish made with pork and sesame seeds.
The shortest bus route to Shillong is to take a bus from Guwahati or Kolkata. You can book your bus tickets with redBus.
Pondicherry (Puducherry) - Give Time A Break
Pondicherry has a formal French settlement on the east coast of India, connecting to Tamil Nadu. It was established as the union territory of Pondicherry after the de facto transfer of French colonies to India. The winters are magnificent here with a dark blue sea and a pink sky, making it one of the most wonderful places to spend your Christmas.
It is believed that some Jesuit fathers visited Pondicherry in 1689 and established the first three churches in the city. The French traditions and customs are still deeply rooted in people of Pondicherry. The famous Church of Our Lady of Immaculate Conception is the Cathedral church of Roman Catholics of the region. Another must-visit church for Christmas 2021 celebration is the Basilica of the Sacred Heart of Jesus. Both churches have a midnight mass in the regional Tamil language.
Many operators including PRTC or Puducherry Road Transport Corporation provide buses from Chennai, Bangalore (Bengaluru), and Hyderabad plying to Pondicherry every day, taking a bus is a convenient way to reach Pondicherry. redBus, your travel partner, is just a few clicks away to book your bus tickets online.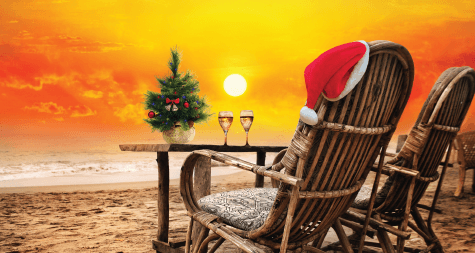 Shimla - a part of the Unforgettable Himachal
The western way to celebrate Christmas is in winter clothes and snow. Shimla can be the perfect place to spend your Christmas 2021.
Tourism in Shimla is a yearlong affair, but it peaks during the Winters. The city in Winters turns white with snow-capped houses and trees. The mall road in Shimla is the most visited site throughout the year, and on Christmas, it sees a much larger crowd. The Christ Church, which is located on The Ridge, is the second-largest Neo-Gothic church in North India. With Christmas carols and gospel music inside the church and heavy snow outside, Shimla in winters become a land of fantasy and fairy tales. The city doesn't have any ancient Christian history, but it still offers a great holiday destination. It gives a tough competition to other places on this list to be one of the most wonderful places to spend your Christmas.
redBus operators have regular buses from Chandigarh, Delhi, Amritsar, and Dehradun. Book your tickets now.
Kolkata - the sweetest part of India
There is a significant number of Christians and Anglo-Indian Christian communities in Kolkata. The Christmas celebration here is unique; The Kolkata Christmas Festival is one such example.
Located in the center of the city, Park Street is the venue for the festival and the place to be for Christmas 2021 celebrations. The street, along with other connecting roads, are brightly lit with countless Christmas lights and decorations till the St Paul's Cathedral. They also organize a small carnival in the Allen park on Park Street, which is decorated with a Christmas tree, food stalls, gift shops, and music performances. Apart from St. Paul's Church, other Churches to visit on Christmas are Cathedral of Most Holy Rosary, St. Andrew's Church, St. John's Church, St. Thomas Church, Armenian Church of Holy Nazareth, and the Marthoma Syrian Church.
Kolkata is a metropolitan, and it is connected to all the nearby cities like Puri, Darjeeling, and Guwahati, along with direct buses from distant routes like Delhi and Patna. Partner with redBus to plan your Christmas 2021 in Kolkata.
Mumbai - The City of Success
India's busiest metropolitan city, Mumbai, or Bombay celebrates Christmas in an urban style, making it one of the most wonderful places to spend your Christmas. Localities like Bandra, Hill Road, and Church Gate are a must-visit during Christmas. Shopping, dinner, parties, and midnight mass in Church is the way Bombay people like to celebrate, and you could do the same for Christmas 2021. Hill Road, Colaba Cause and Crawford Market are excellent for shopping. For dinner and parties, most of the pubs and bars have special DJs for the festival. Mt. Mary Basilica, Gloria Church, St. Andrew's Church, and many others offer midnight mass.
Mumbai is the financial capital of India, and it is well connected to all the major metro cities like Delhi, Chennai, Bangalore (Bengaluru), and Kolkata. It is also connected to almost every other city in India like Ahmedabad, Pune, Hyderabad, Chandigarh, and Jaipur. There re several MSRTC buses that can take you to different Christmas venues in Mumbai.
If you're looking to travel to Christmas venues and worried about safe travel, you can choose the Primo service launched by redBus. Primo is where passengers can enjoy travelling in high-rated buses with best-in-class services. While looking for bus tickets on a desired route, customers can check Primo tag in order to choose this wonderful service. From hygiene standards to on-time service and comfort, there are many benefits that passengers can get from Primo buses.
To have a wonderful time in any of these destinations during Christmas 2021, you can easily make your bookings with redBus. Download the redBus app on your phone or visit the official rebus website for great benefits on your bus ticket booking. redBus assures you the lowest price on your bus ticket(s) with convenient features like zero convince charges, preferred seats, live bus tracking, on-time arrival, and special redBus discount offers. redBus' s safe and secure payment gateway is trusted by over 17 million people globally and with over 2300 bus operators worldwide, which makes redBus the world's largest bus-ticketing organisation. To have a hassle-free experience during Christmas 2021, enjoy the perks of a comfortable journey, convenient bookings, and many discounts and offers with redBus. Happy holidays!