APSRTC Online Reservation
The Andhra Pradesh State Road Transport Corporation (APSRTC), originally founded as Nizam State Rail & Road Transport Department (NSR-RTD), in June 1932 started as a department of Nizam State Railway with 27 buses and 166 staff. APSRTC eventually gained momentum, and within the last 78 years, it increased its fleet size to 14123 buses and has more than 692 bus shelters. APSRTC has also received 2 national awards for its great passenger services and 3 Bus India awards for constantly growing customer satisfaction.
This massive fleet of APSRTC buses serves more than 75 lakh passengers every day, connecting 14000 villages to major cities and towns across the state. APSRTC services are not just limited to the state but also cater to movement in the neighboring states such as Telangana, Karnataka, Odisha, and Tamil Nadu. This whole operation is fragmented into 4 zones and is managed by 12 regional level Managers.

Amenities on APSRTC
APSRTC is among the industry leaders in the bus transportation services in Andhra Pradesh. It is known for providing the best in class bus services for daily commuters. It doesn't believe in compromising with the safety and comfort of its passengers and provides one of the most affordable bus services in the state. APSRTC has also always pushed for better inter-city services across Andhra Pradesh and surveys are taken in order to know the passengers' needs. APSRTC online booking using redBus makes it easier for passengers to book a bus ticket.
The buses run under APSRTC are generally equipped with all the necessary amenities required to make your travel safer and convenient. The set of amenities might vary depending upon the type of accommodation booked by you. APSRTC bus bookings generally provide you with amenities such as:
Charging socket

Mineral water bottles

Blankets

Air conditioner

Central television

Air freshener

Disposable seat covers, etc.



With the help of online bus booking portals like redBus, APSRTC has been a pioneer in excellent digital payment for bus booking and has recently received Digital Technology Sabha Award consecutively for the third time in 2020-2021.
Popular Travel Routes
APSRTC covers more than 30,600 routes on a regular basis. Some of the popular travel routes covered by APSRTC buses are as following:
Hyderabad to Vijayarai, and many more.
The shortest and longest routes covered include Srisailam to Bhadrachalam & Rajahmundry to Bhadrachalam. You can easily check the APSRTC bus timings for buses traveling in your route using the redBus portal.

Types of APSRTC Buses
APSRTC online booking provides you with numerous bus options to choose from for your travel destination. Some of the most prominent buses offered by APSRTC include Vennela A/C sleeper, Garuda Plus (Multiaxle A/C), Scania Desire A/C buses, City buses, Super Luxury, Amaravathi A/C. All the buses are selected based on the comfort and safety quotient of the passengers and aims to provide the most comfortable travel experience. Let's take a look at some specifications.
Vennela A/C Sleeper: The Vennela A/C sleeper features a two-tier accommodation and is designed to carry a maximum of 24 passengers.

Garuda A/C Coach: The Garuda A/C Coach provides a luxurious travel experience to its passengers by featuring amenities such as air suspension, pushback seats, reading lamps, audio, and video entertainment, etc.

Amaravathi A/C: The Amravathi A/C bus is a 47 seater A/C sleeper coach that usually services night hours and is equipped with all necessary amenities required to make the travel comfortable and safe.

Scania Desire A/C bus: The Scania Desire A/C bus is best suited for passengers who are traveling on a low-budget but need air conditioning in their accommodations.

Popular Cities Covered
APSRTC buses cover more than 43.4 lakh kilometers daily covering more than 30,000 routes. Some of the most popular cities covered by these buses include: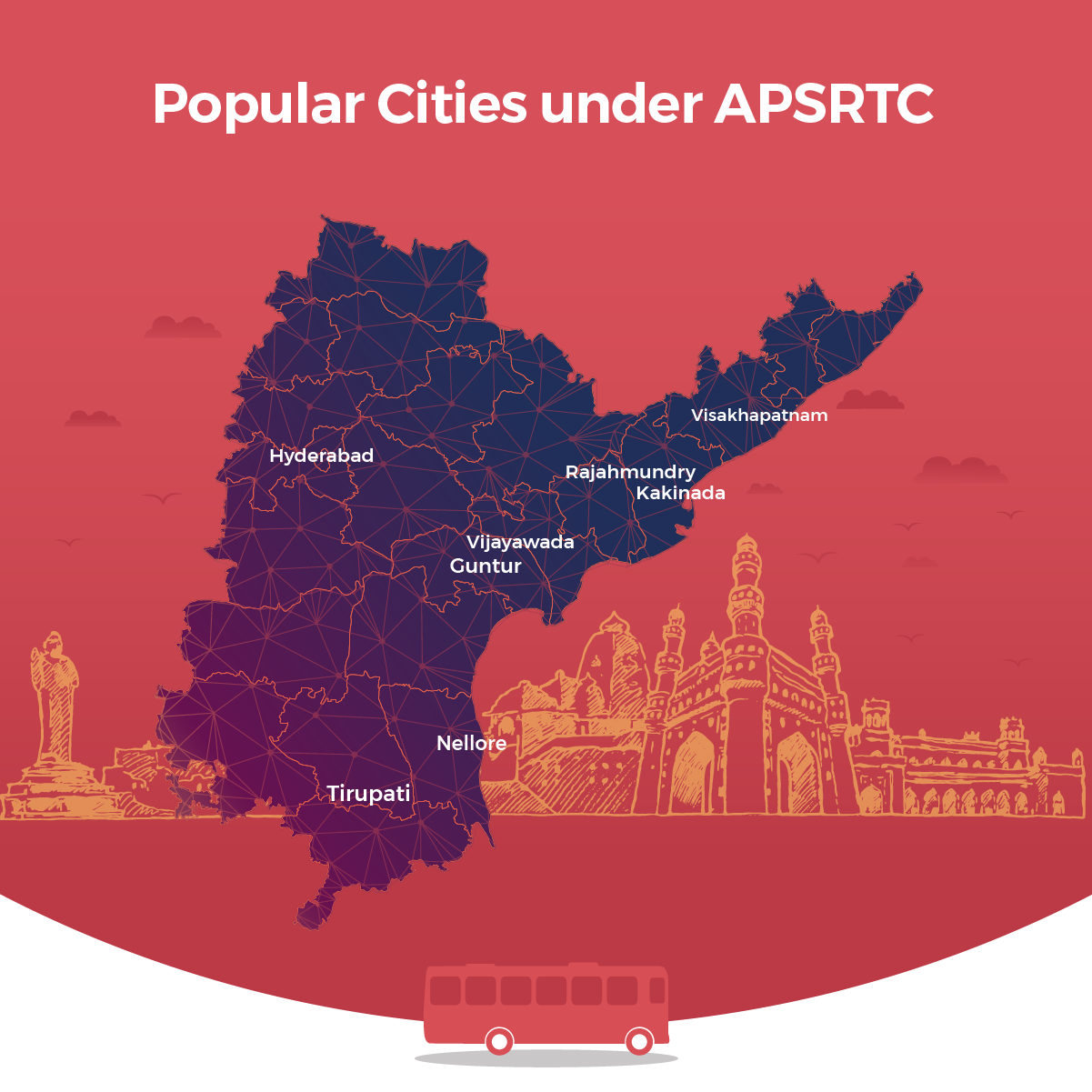 Popular Pilgrimage Destinations with APSRTC
You can make APSRTC ticket booking for traveling to surrounding states and cities like:

Shirdi is among the most popular pilgrimage destinations that you can easily visit by making APSRTC online bus booking. In addition to this, you can also visit other popular pilgrimage sites like Tirupati, Annavaram, Mangalagiri, Srisailam, Dwaraka Tirumala, etc. Pilgrims from all around the country book APSRTC bus tickets to travel to Tirumala for the famous Brahmotsavam festival . APSRTC also offers special darshan tickets on this occasion.
Safety+ is a feature by redBus that reinforces our attempt to ensure safer bus travel. It allows bus operators to showcase their compliance with Covid-19 measures across their staff and vehicles. While booking, users can use the Safety+ mark to identify buses that follow these measures outlined by the government of India.
Buses tagged with the Safety+ sign are disinfected regularly, are operated by staff members that wear face masks and gloves, and are installed with hand sanitizers.
As part of this move against the coronavirus, redBus requests all its users to maintain social distancing and observe personal hygiene. If you are travelling, make sure you are wearing a face mask at all times, washing your hands regularly, and not touching your face. In case you are unwell, please postpone your travel plans.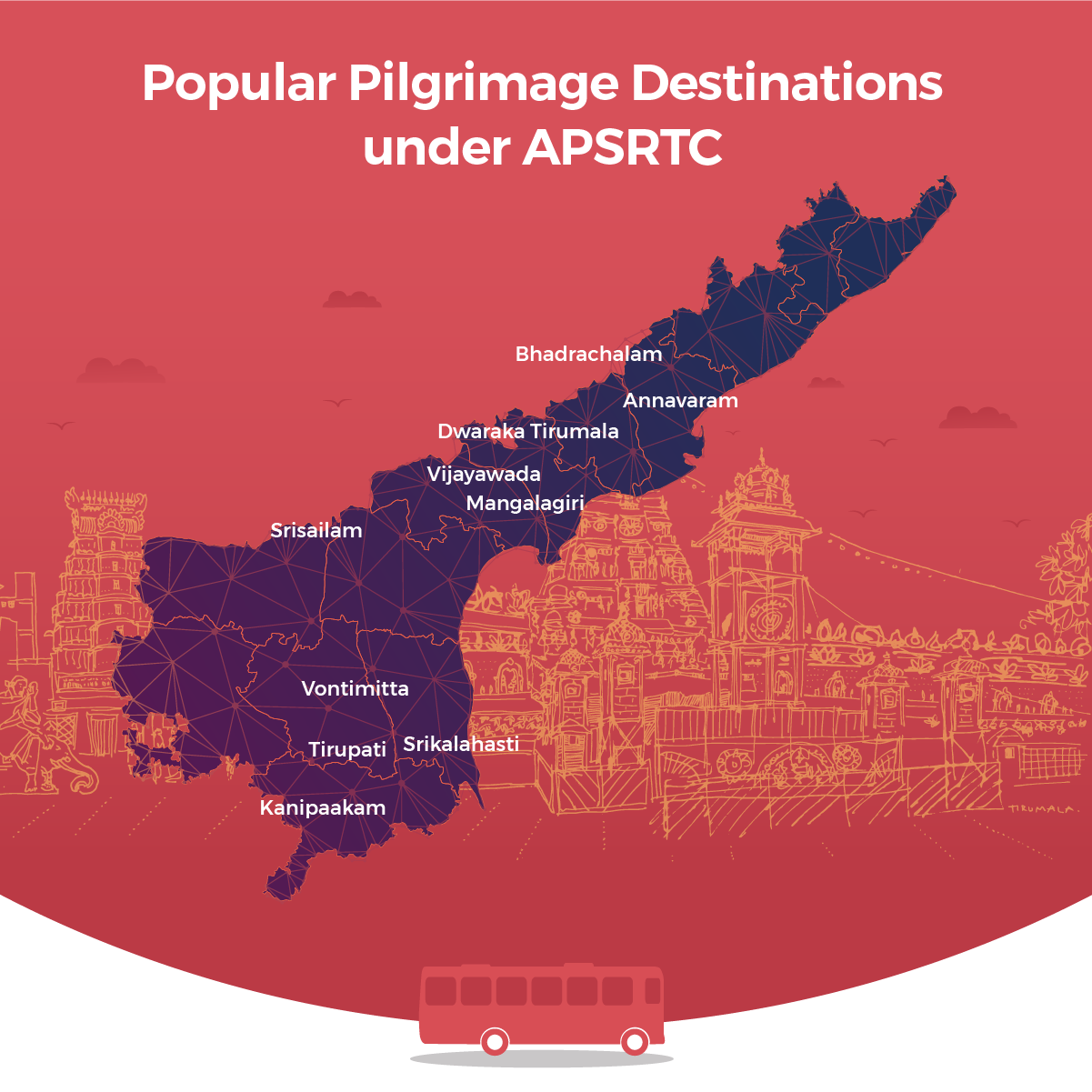 Is it safe to travel in Andhra Pradesh right now?

Andhra Pradesh is a big city with a 4.94 crore population. From the onset of the pandemic up till now, the state has seen around 888K cases of COVID-19 out of which 880K people have recovered. Presently, the COVID cases are declining in Andhra Pradesh, with numbers going down to only 600+ active cases at present in February. Considering this, the government has provided travel relaxations in the state with the permission of inter-state travel agencies under certain guidelines. Passengers can now travel in and around Andhra Pradesh using APSRTC (Andhra Pradesh State Road Transport Corporation) buses. These buses provide travel services to Odisha, Vijayawada, Karnataka, Anantapur, and Proddatur with Telangana to be soon on the list. Every passenger on the bus is required to carry their Aadhar Card with them. Passengers will also have to comply with the measures of social distancing along with the mandatory use of masks. Necessary precautions are being taken up by the travel service for the safety of passengers. The state-wise COVID updates for Andhra Pradesh are also available on redBus that customers can look into before booking to ensure a safe travel journey.