Udupi Krishna Temple
Known for being one of the most famous Krishna temples in the country, the Sri Udupi Temple is dedicated to Lord Krishna and is located in the city of Udupi in Karnataka. The area resembles an ashram and is a popular location for religious devotees, not just from India but across the world. The temple is surrounded by many other temples, including the Udupi Anantheshwara Temple, which is a thousand years old.
The temple was founded by a saint named Jagadguru Sri Madhwacharya back in the 13th Century. He was also the founder of the Vedanta School, known as Dvaita. The devotees who wish to catch a glimpse of Lord Krishna have to do so with the help of an inner window called the Navagraha kindi. The outer window is known as the Kanakana kindi, and it is decorated with the help of an arch.
The temple opens every morning at 5.30 am. The unique feature of this temple is the fact that the deity is worshipped only via the window, which comes with nine holes. Post the morning prayers, devotees can receive the prasadam at noon.

Quick Facts
Address: Katte Acharya Marg, Sri Krishna Temple Complex, Thenkpete, Maruthi Veethika, Udupi, Karnataka 576103, India
Opening hours: 6 am to 9 pm
Deity: Lord Krishna
Festivals celebrated: Krishna Janmashtami, Makar Sankranti, Naraka Chaturdashi
The road to Udupi temple
Getting to Sri Udupi is simple and doesn't require a lot of complications. There are bus routes available from major cities around Udupi, and aggregators such as redBus make it easier to travel. If you're planning on traveling and want to know how to reach the Udupi Krishna temple, we've made it easier.
The Udupi Temple, Udupi, is located at a distance of around 54 kilometers from the city of Mangalore and can be easily accessed by buses or trains. This makes it a great place to visit if you're planning a weekend religious getaway with your loved ones.
There is no airport in Udupi and the closest one is located at Mangalore, which is not too far away, as mentioned. The airport acts as an international airport as well and connects regular flights to Doha, Abu Dhabi, Dubai, and many more international destinations. There are also daily flights available from cities such as Hyderabad, Bangalore, Chennai, and other major domestic cities.
The quaint town has good connectivity, making it a place you must visit if you're looking to gain some inner peace and time away from the city. There are regular buses from major cities around the area, including Mangalore, Bangalore, Hyderabad, Kochi, and more.
The distances from these cities to the holy place take anywhere around 6 to 12 hours by bus, depending on where you catch it from. As the place sees a lot of travel during the festival days, booking a bus becomes easier as there are plenty of carriers that operate on this route.

How to reach Udupi Krishna Temple by bus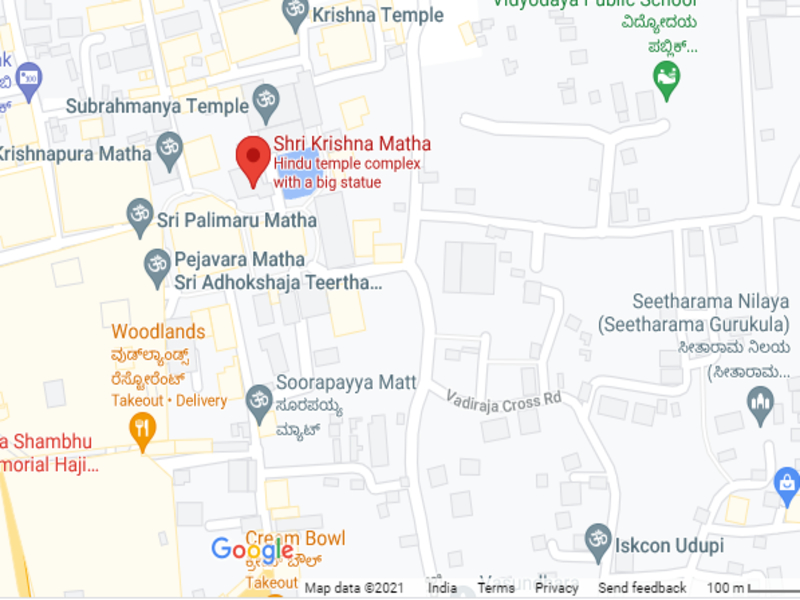 Udupi is a famous tourist spot in Uttara Karnataka because of the Udupi Krishna Temple. The temple is considered as the final resting place of Lord Krishna and pilgrims frequently visit here throughout the year. Though people usually take a cab or a bus to visit, travelling by bus is also a great way of reaching here. redBus provides you with cheaper bus tickets to the nearest place to this temple. Here is some information on how you can reach the temple from some nearby cities and other places.

How to reach Udupi Krishna Temple from Chennai?

The distance from Chennai to Udupi Krishna Temple is 752 km which would take approximately 15-16 hrs. You can find Chennai-Udupi TNSTC bus tickets with redBus but these buses would take you to the bus stand. From the bus station, you need to find a cab or an auto to reach the temple. Another way is via Bangalore, from where the journey would be broken up into 5 hrs and then 7-8 hrs to reach Udupi. You could also reach Mangalore by train or flight and then take the bus to Udupi from there. You can find private buses from both Chennai and Bangalore or Mangalore.

How to reach Udupi Krishna Temple from Bangalore?

The journey to Udupi Krishna Temple from Bangalore takes anywhere between 7-8 hrs by bus for 400 km. You can find private buses in plenty and get the tickets online with redBus. The best way to find the best bus tickets at a cheaper rate is by reaching redBus. You can find buses operating at regular intervals and more in the evening. These buses will take you to Udupi, from where you need to find another ride to reach the temple. You can also get a direct train from Bangalore to Mangalore to go to Udupi from there.

Buses to Udupi Temple, Udupi

The buses to Udupi operate on major routes and see passengers get off and on at various points. From Bangalore, the bus takes the NH75 and reaches the town in around eight and a half hours. There is also an alternate route that enters via NH 48, and this takes around an hour longer.

The journey to Udupi will promise to be a fulfilling and peaceful one. A lot of pilgrims make it one of their life's goals to visit this beautiful and historic temple as it is said to cleanse your sins and facilitate better inner peace. The food at Udupi is worth a mention too, as the dosas and vegetarian fare is said to be one of the best in the country.
You can read up a bit about the temple online and its significance to help you get a better idea of its history and significance.
The beautiful idol of Lord Krishna decked up in a gold cover studded with diamonds and in a sort of meditational trance. Every day, a beautiful garland of flowers is placed on the idol, and the morning darshan is an excellent exercise to start your day on a positive note. The sight of the regal crown, sacred gold thread, and intricate stone-laden garments is indeed an experience you will not want to miss out on.
With redBus, you'll also be able to get regular buses from the major cities in and around the town. Cities like Bangalore and Mysore are perfect starting points for catching these buses, and an overnight bus will get you there. redBus also offers discounts and deals on bus tickets and hotel accommodations. You could look for hotels near the bus stand area to make it an efficient trip and a religious experience for life.